August 13, 2016 08:23 PM PDT

Check more mixes at www.mixcloud.com/djtonytempo
July 21, 2016 02:36 PM PDT

Check more mixes at www.mixcloud.com/djtonytempo
December 24, 2011 06:45 AM PST
Merry Xmas and
Happy New Year !!!!!!
from my family to yours.
December 21, 2011 02:48 AM PST
Yes massive and crew, Tony Tempo is back with a vengeance.
Brand New Music

4 Radio Stations One Night at the SAME time.
On A Wednesday @ 8 - 11pm est.
http://www.islandmix.com/static - Static Radio (NY)
http://www.dqwayzay.com - QZRadio (NY)
http://www.maddflava.com Madd Flava Radio (Atl)
http://www.spinDmusic.com (Sydney, Australia)

So the ride continues!!!!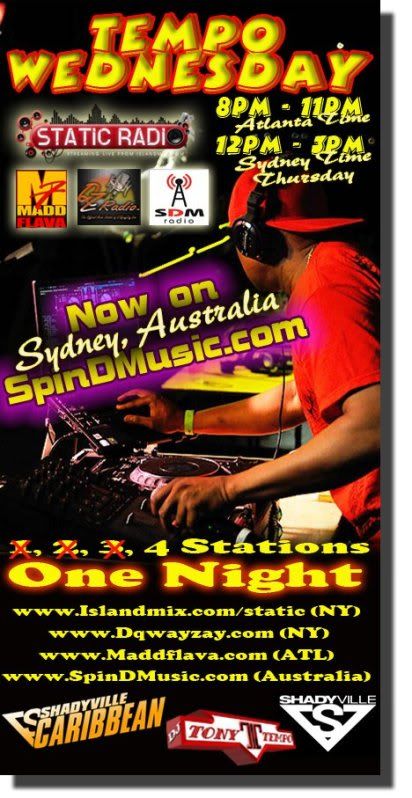 Happy Holidays to all families.
June 21, 2011 07:04 PM PDT
My profiles:
Facebook
Twitter
Contact me:
Djtonytempo
djtonytempo
djtonytempo
January 17, 2011 11:28 AM PST
Jouvert Session into 2011 Rum Session into 2011 Bacchanal Pace Session.
More New Music. Leave a comment please.
Enjoy!
Bookings:404-429-5400
Email: djtonytempo@gmail.com
Twitter @DjTonyTempo
Facebook.com/DJTonyTempo
January 10, 2011 10:32 AM PST
Wow, this has pace from the beginning...And more NEW music for 2011 Trinidad & Tobago's carnival.
October 23, 2010 06:14 AM PDT
Hot chunez from the summer carnivals plus new riddim refixes by Tony Tempo.
September 19, 2010 11:16 AM PDT
This Classics House Mix is the first of the Tony Tempo Mix Series.
December 28, 2009 10:55 AM PST
Im taking it back to the old school with this mix. FULLY REMIXED tracks.
Perfect for those who remember those days and for those who like the old school vibe.
Made for your CD. So download and burn it and ERUPT it in your car.